Use the natural squatting position safely and comfortably with
Nature's Platform
Two-thirds of humanity
use the squatting position
to answer the call of nature.

In those cultures, appendicitis,
diverticulosis, hemorrhoids, colitis,
prostate disorders and colon cancer
are virtually unknown ... Learn why
~~~~~~~~~~~
Recommended by doctors
and yoga teachers for easier
and more complete elimination.

Guaranteed to support a 300-pound man or woman.
Can be set up or removed in three seconds, so no one is inconvenienced.
Learn more about Nature's Platform
Place an Order
See 20 pages of research on the health benefits of squatting
"We must bear in mind that, while we regard the use of the [chair-like toilet] as natural, we represent only a relatively small percentage of the world's population, and a percentage that may be said, in an absolute sense, to be wrong, insofar as we have allowed civilization to interfere with our biological functioning."

Dr. Alexander Kira
Professor Emeritus, Cornell University School of Architecture
Former Director, Center for Housing and Environmental Studies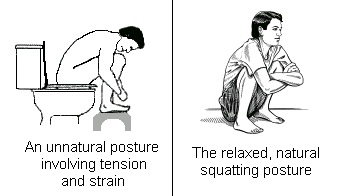 How does Nature's Platform compare to "footstools?"
(And other frequently asked questions)


More Pictures Endorsements Health Benefits Frequently Asked Questions